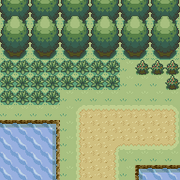 Jirachi's Park is the first available Legendary Area. It is completed after 450 searches and has the highest chance to catch a legendary. As for Megastones, Mawilite is available on this map.
Legendary Pokemon
Edit
The current chances are 1 in 583.
Jirachi
Shiny Nefareon
Sapphire Sparky
Ruby Omega Mew
Crystal Diancie
Common Pokemon
Edit
Abra
Absol
Bidoof
Bunnelby
Cascoon
Caterpie
Chatot
Chespin
Doduo
Electrike
Floette
Fletchling
Dark Happiny
Helioptile
Heracross
Mankey
Mantyke
Panpour
Pansage
Pansear
Patrat
Poliwag
Psyduck
Purrloin
Scatterbug
Silcoon
Skarmory
Swablu
Treecko
Tyrogue
Weedle
Yanma
Special Pokemon
Edit
Carbink (Crystal)
Diancie (Crystal)
Floette (Sapphire)
Plushies
Edit
There is a total of 66 plushies available on this map, excluding the shiny versions. Team Blue has the least amount available to them with 20 plushies, Team Red has 21 plushies, and finally Team Yellow has 25 plushies available.
Team Blue
Edit
Abomasnow
Mega Abomasnow
Bagon
Carvanha
Ducklett
Flareon
Latios
Mega Latios
Lucario
Mega Lucario
Quagsire
Riolu
Salamence
Sharpedo
Shelgon
Snover
Swanna
Venomoth
Venonat
Wooper
Team Red
Edit
Chimecho
Chinchou
Chingling
Eevee
Goldeen
Jolteon
Lanturn
Latias
Mega Latias
Nuzleaf
Scizor
Scolipede
Scyther
Seaking
Seedot
Shiftry
Togekiss
Togepi
Togetic
Venipede
Whirlipede
Team Yellow
Edit
Archen
Archeops
Beautifly
Braviary
Breloom
Cascoon
Dustox
Gothita
Gothitelle
Gothorita
Inkay
Jirachi
Malamar
Nidoran M
Nidoking
Nidorino
Rufflet
Shroomish
Silcoon
Vaporeon
Wurmple
Xerneas
Yveltal
Zoroark
Zorua
Portraits
Edit
There is a total of 58 portraits available on this map, 17 for Team Blue, 20 for Team Red, and 21 for Team Yellow.
Team Blue
Edit
Abomasnow
Bagon
Carvanha
Ducklett
Flareon
Latios
Lucario
Quagsire
Riolu
Salamence
Sharpedo
Shelgon
Snover
Swanna
Venomoth
Venonat
Wooper
Team Red
Edit
Chimecho
Chinchou
Chingling
Eevee
Goldeen
Jolteon
Lanturn
Latias
Nuzleaf
Scizor
Scolipede
Scyther
Seaking
Seedot
Shiftry
Togekiss
Togepi
Togetic
Venipede
Whirlipede
Team Yellow
Edit
Archen
Archeops
Beautifly
Braviary
Breloom
Cascoon
Dustox
Gothita
Gothitelle
Gothorita
Jirachi
Nidoran M
Nidoking
Nidorino
Rufflet
Shroomish
Silcoon
Vaporeon
Wurmple
Zoroark
Zorua